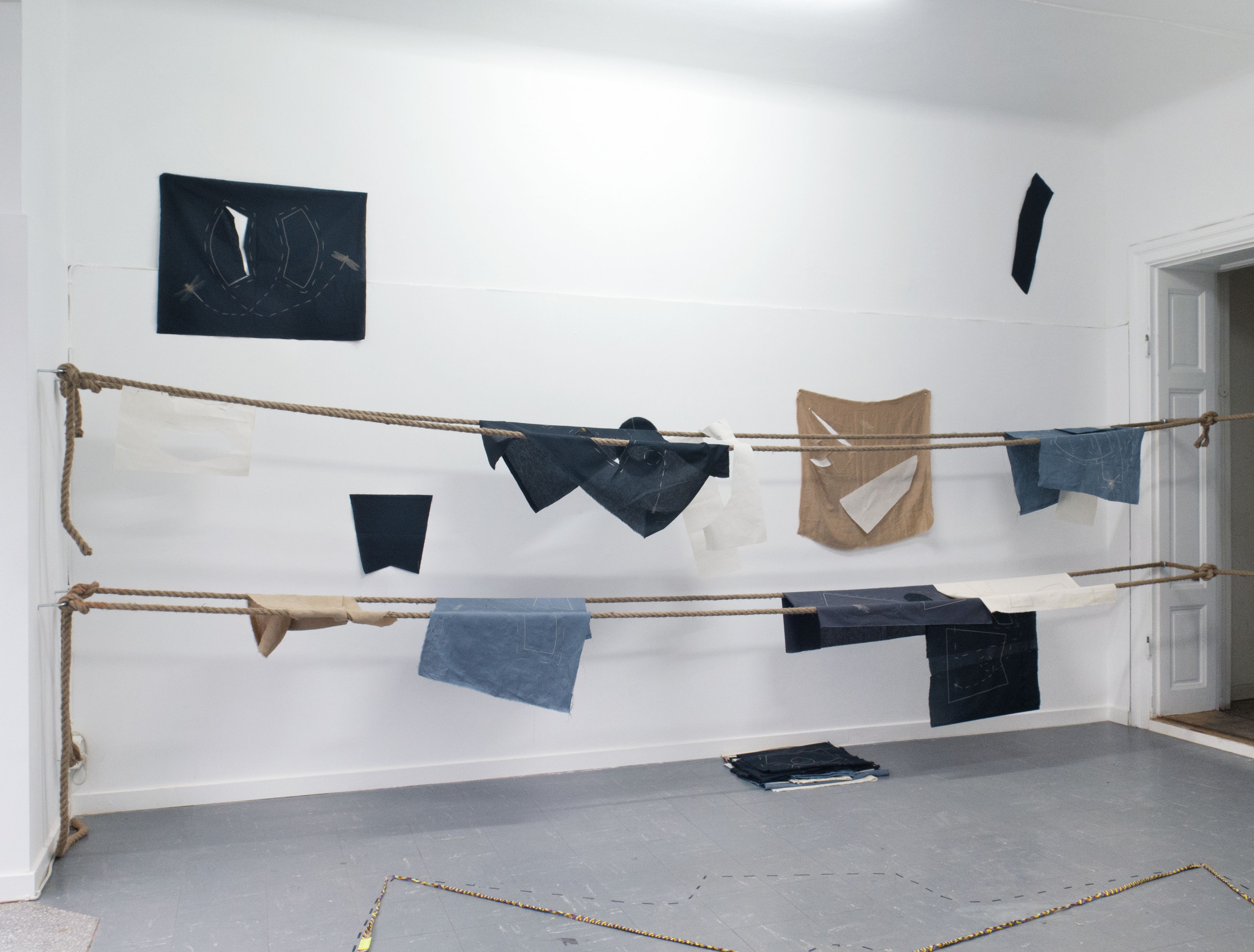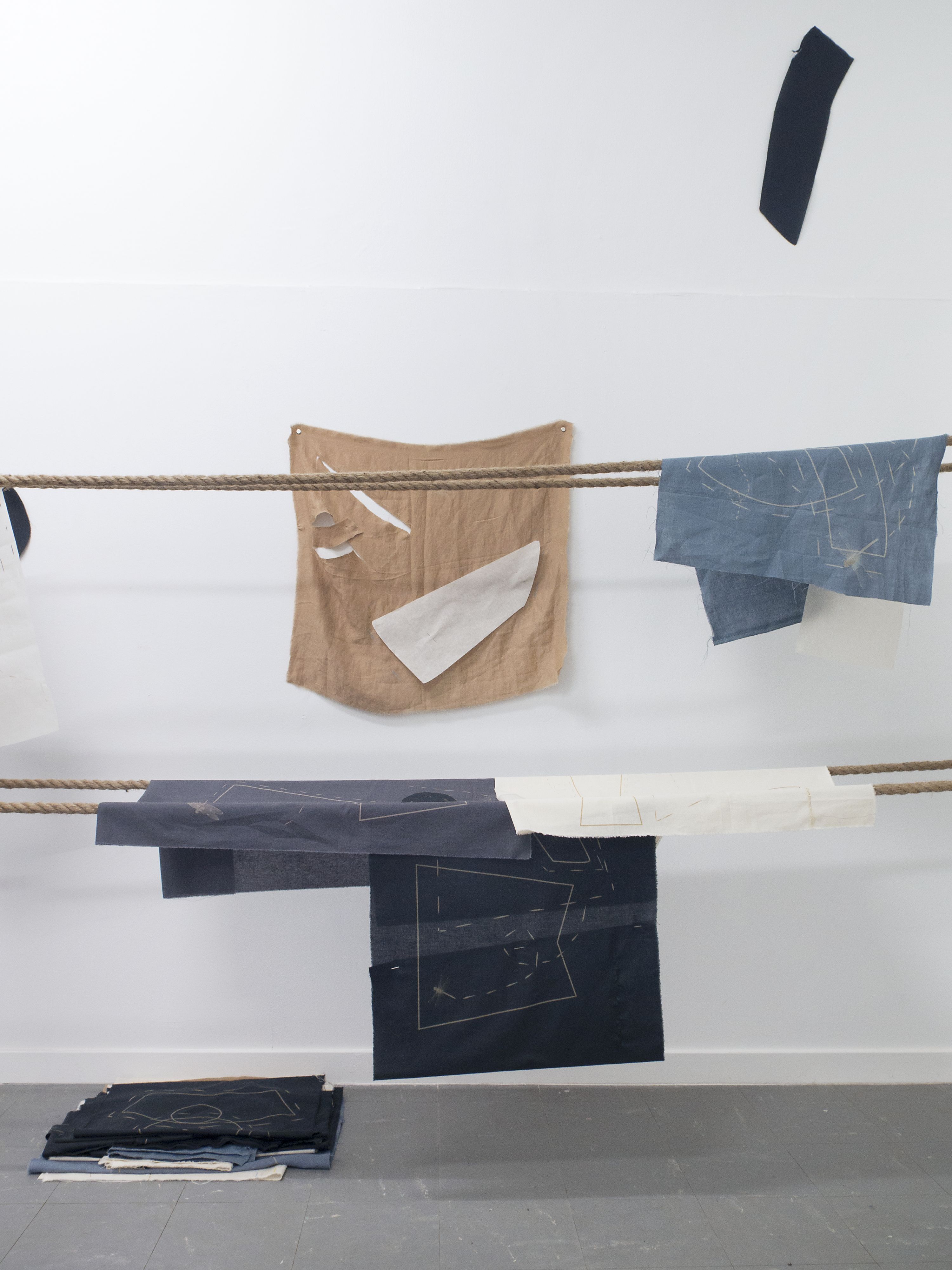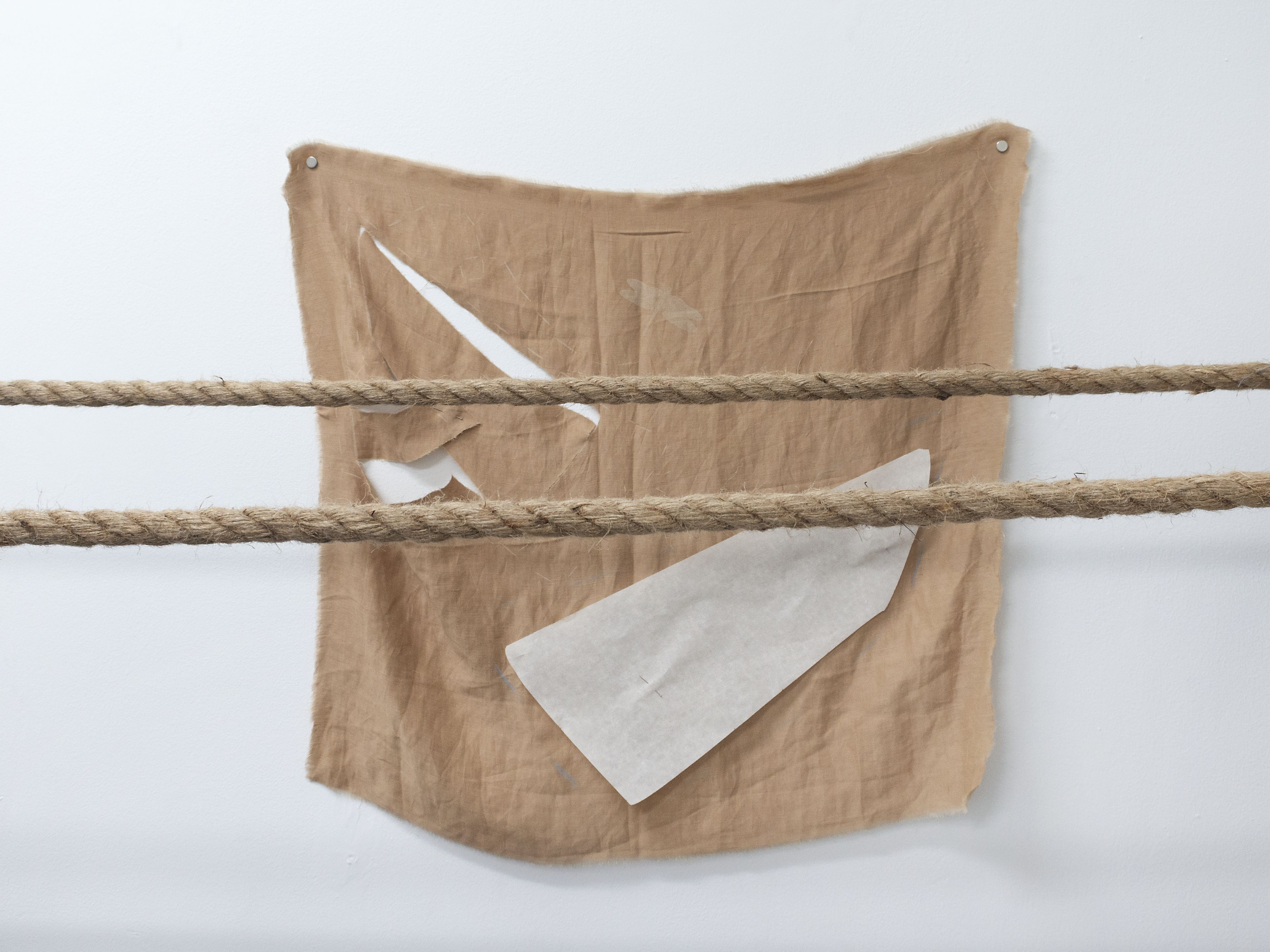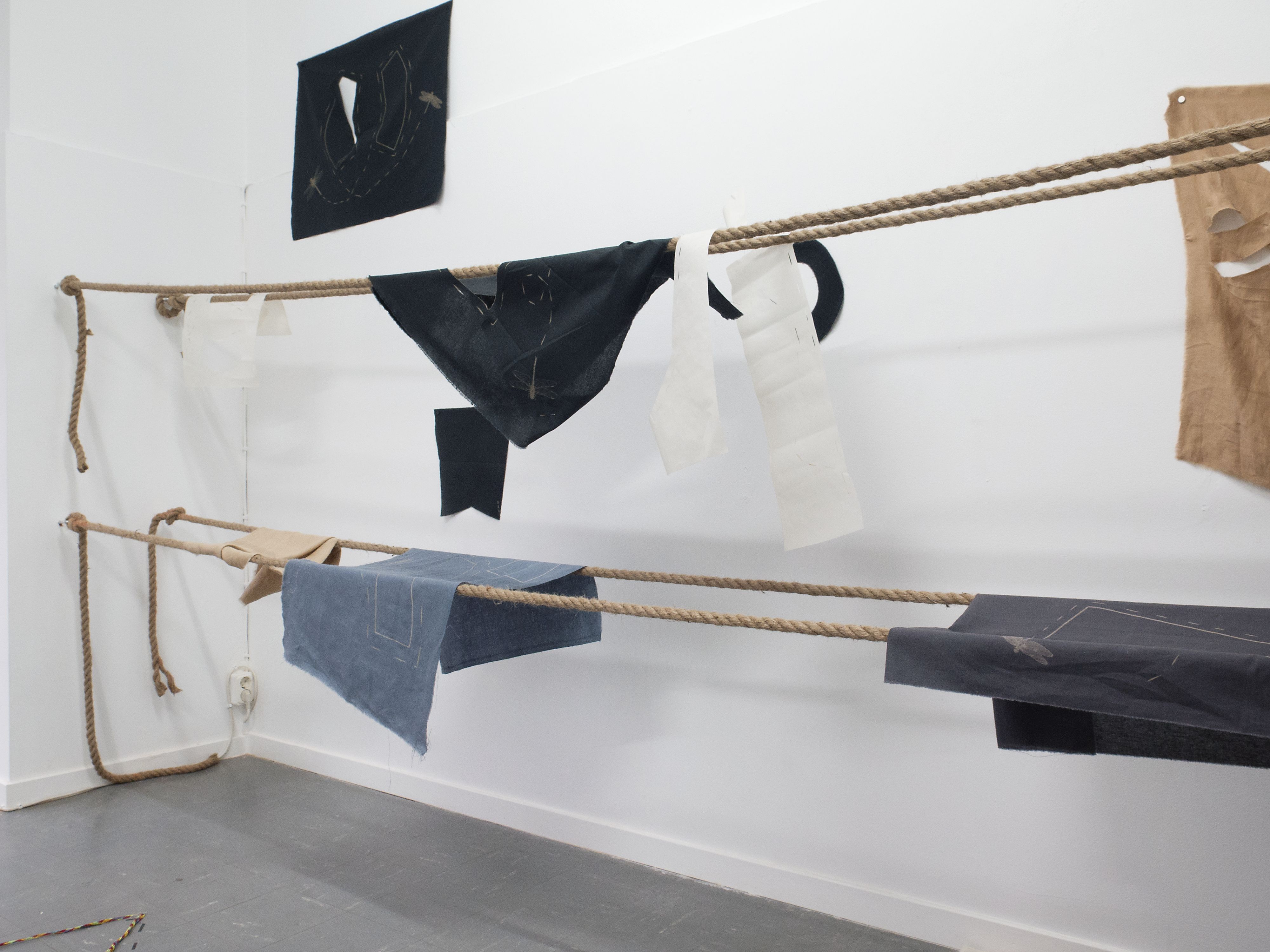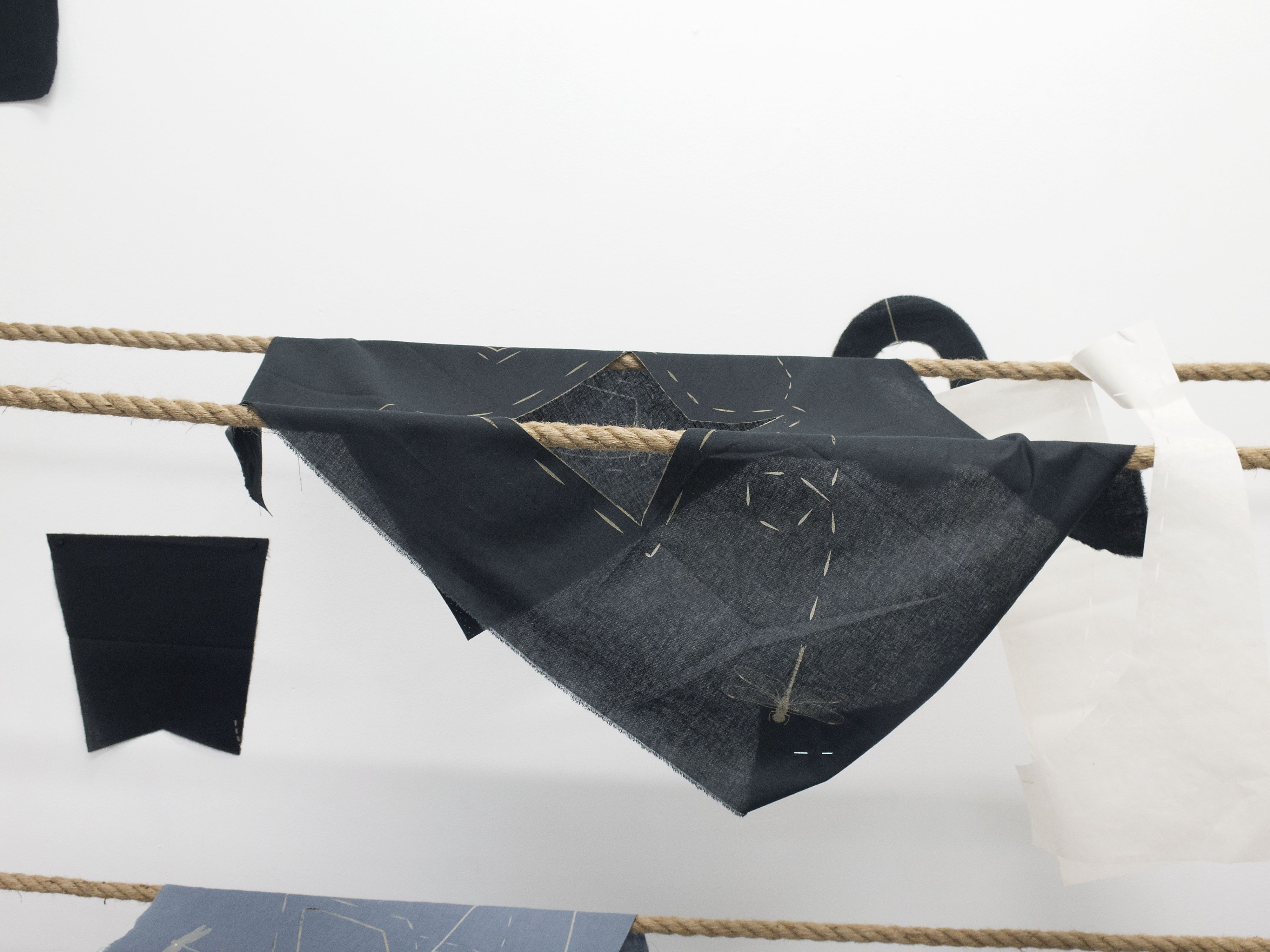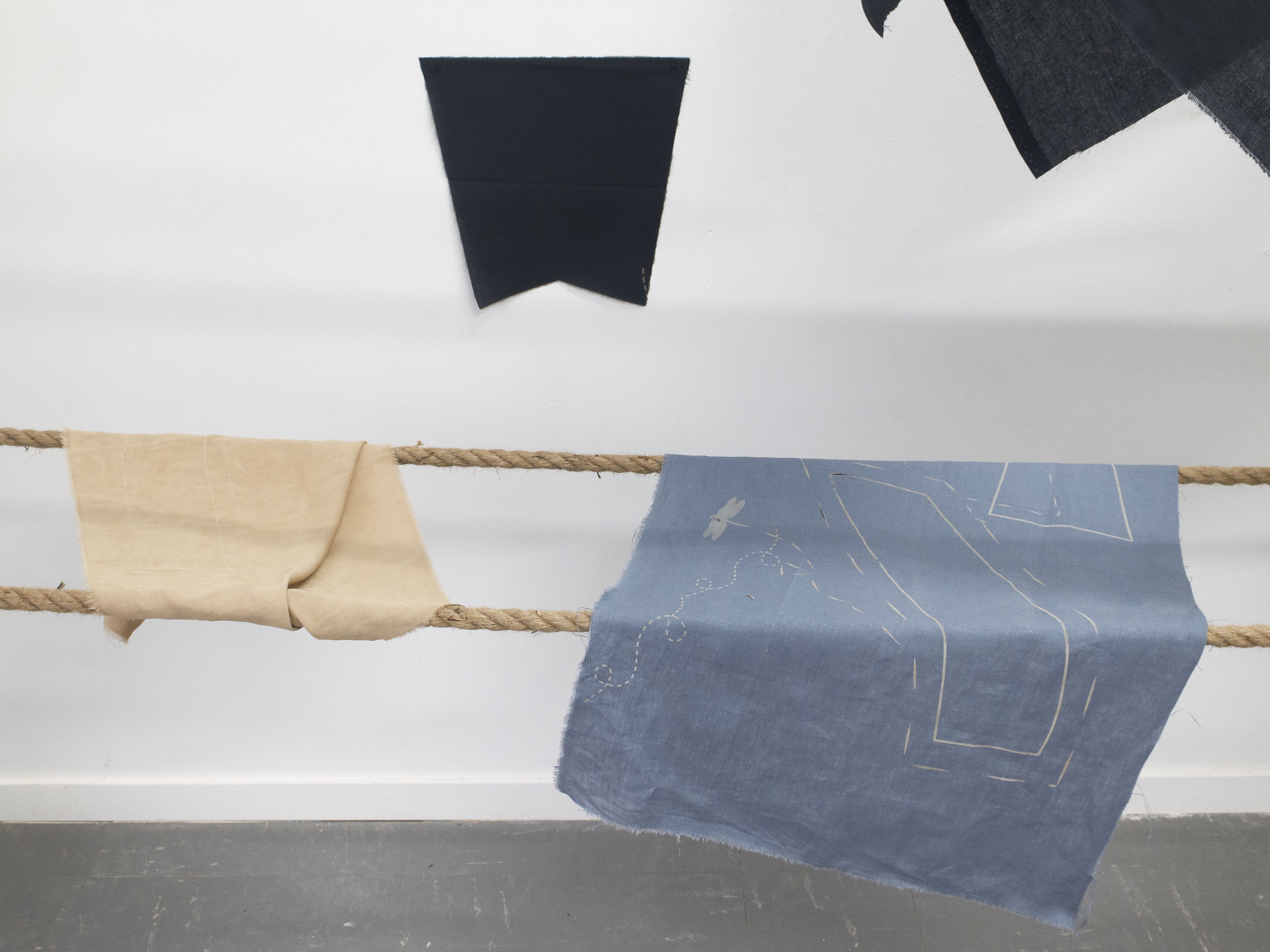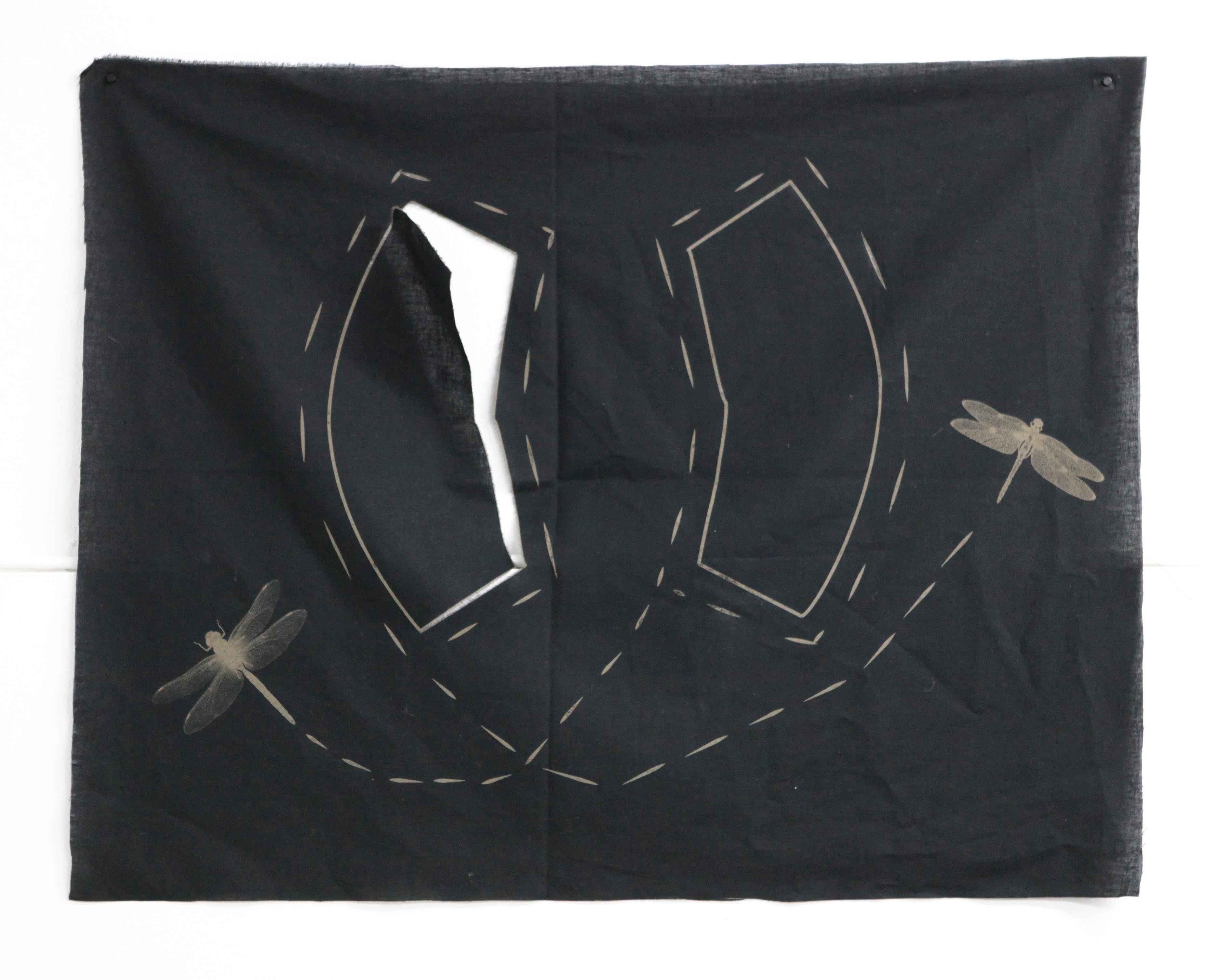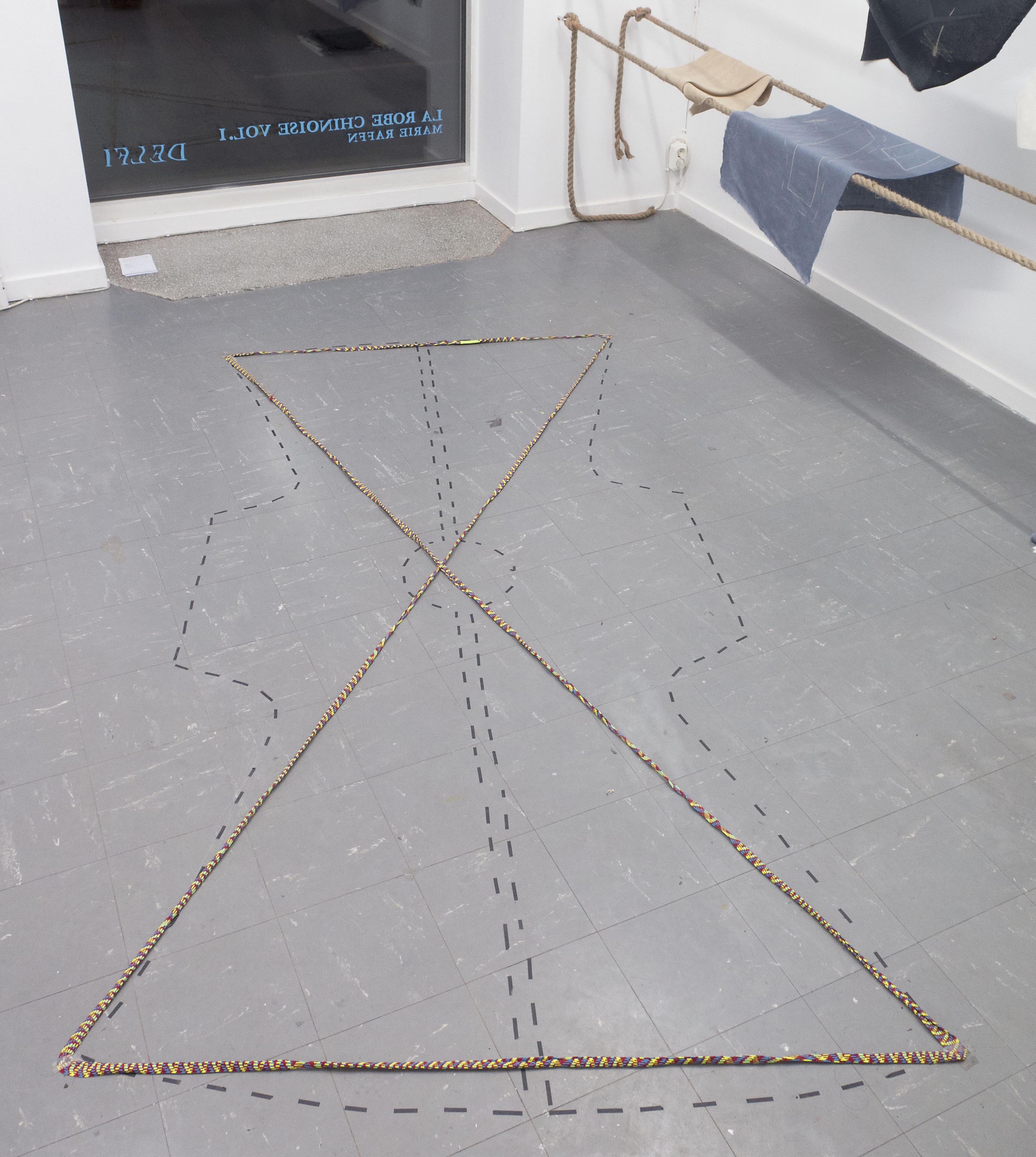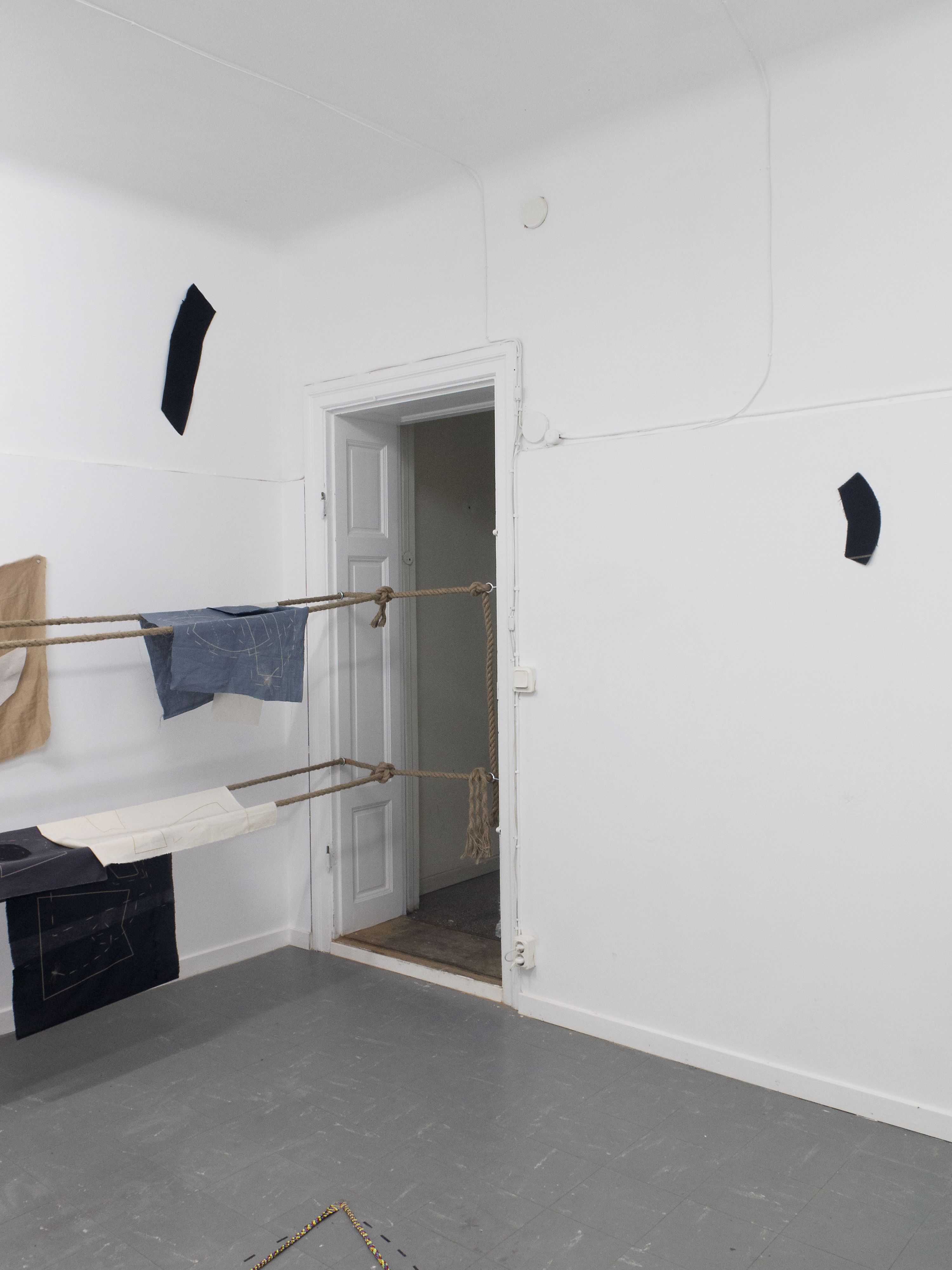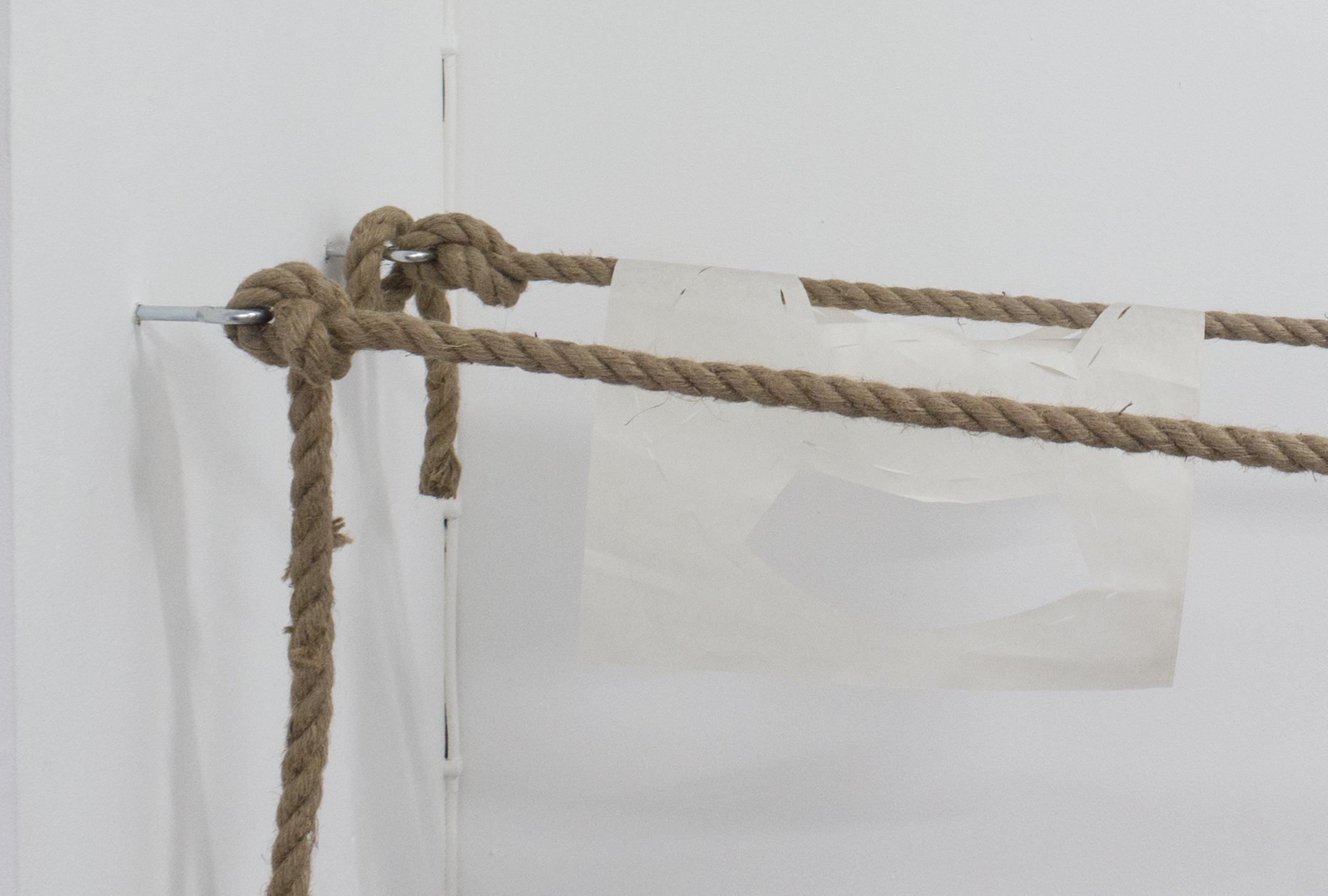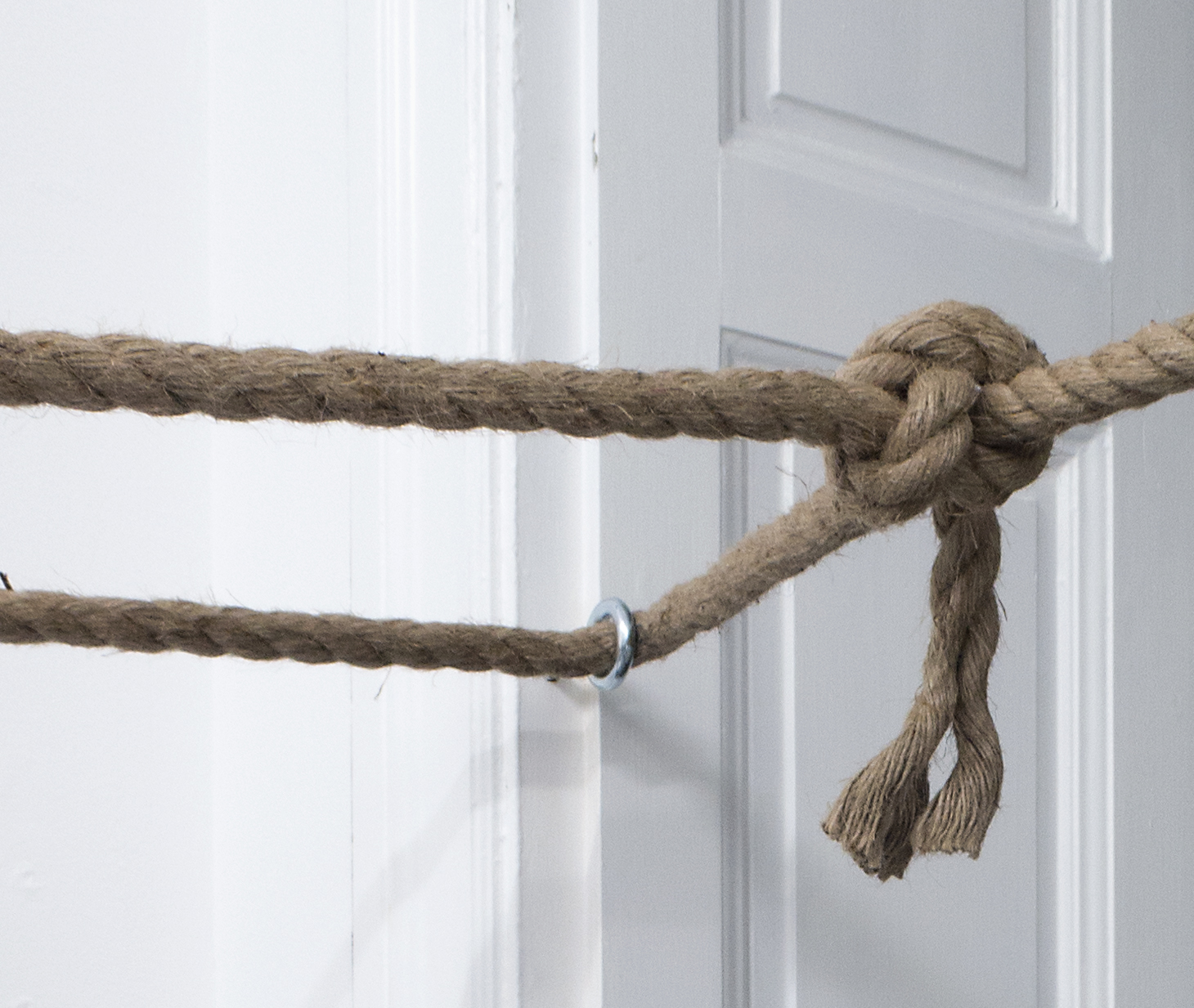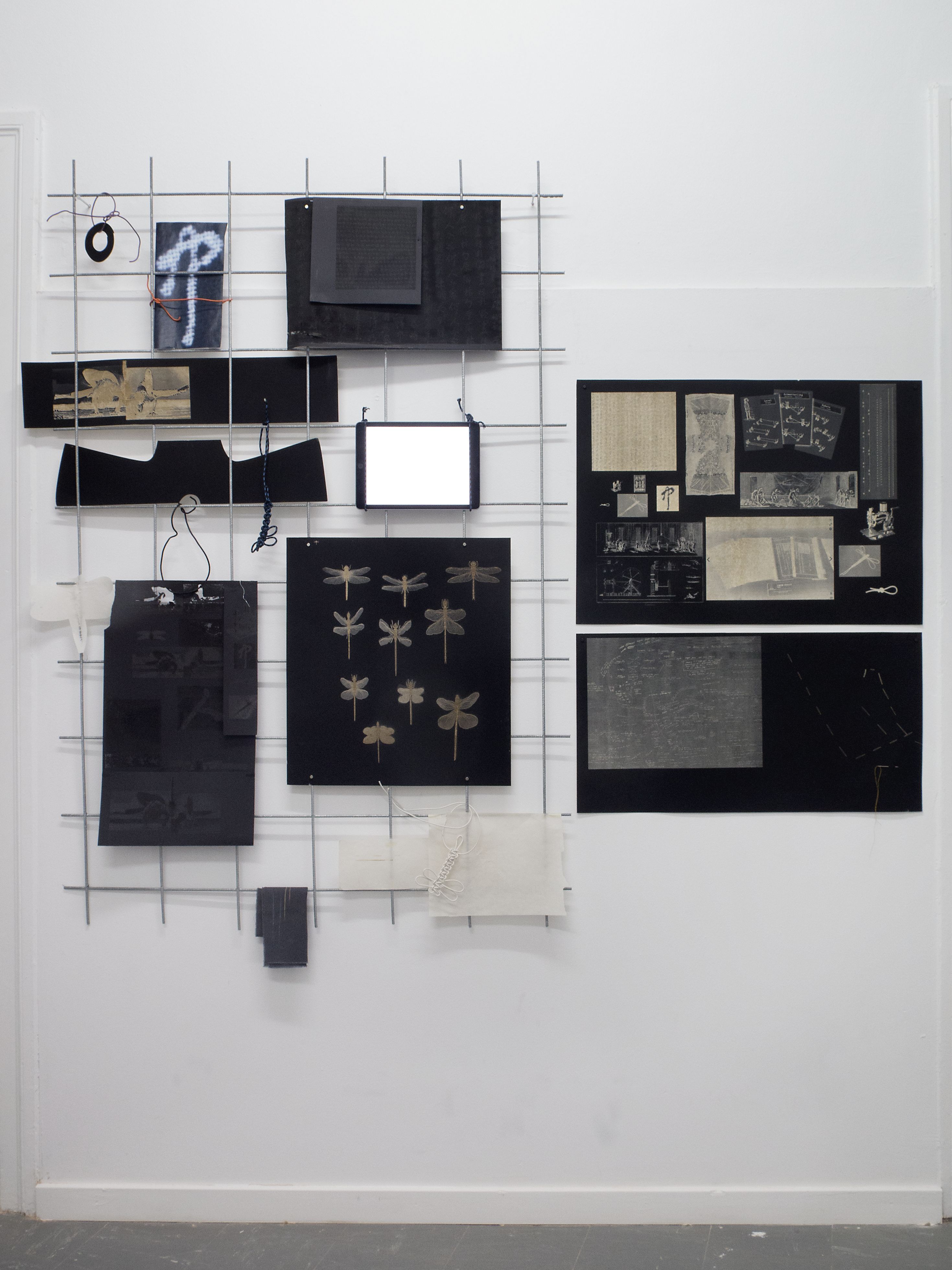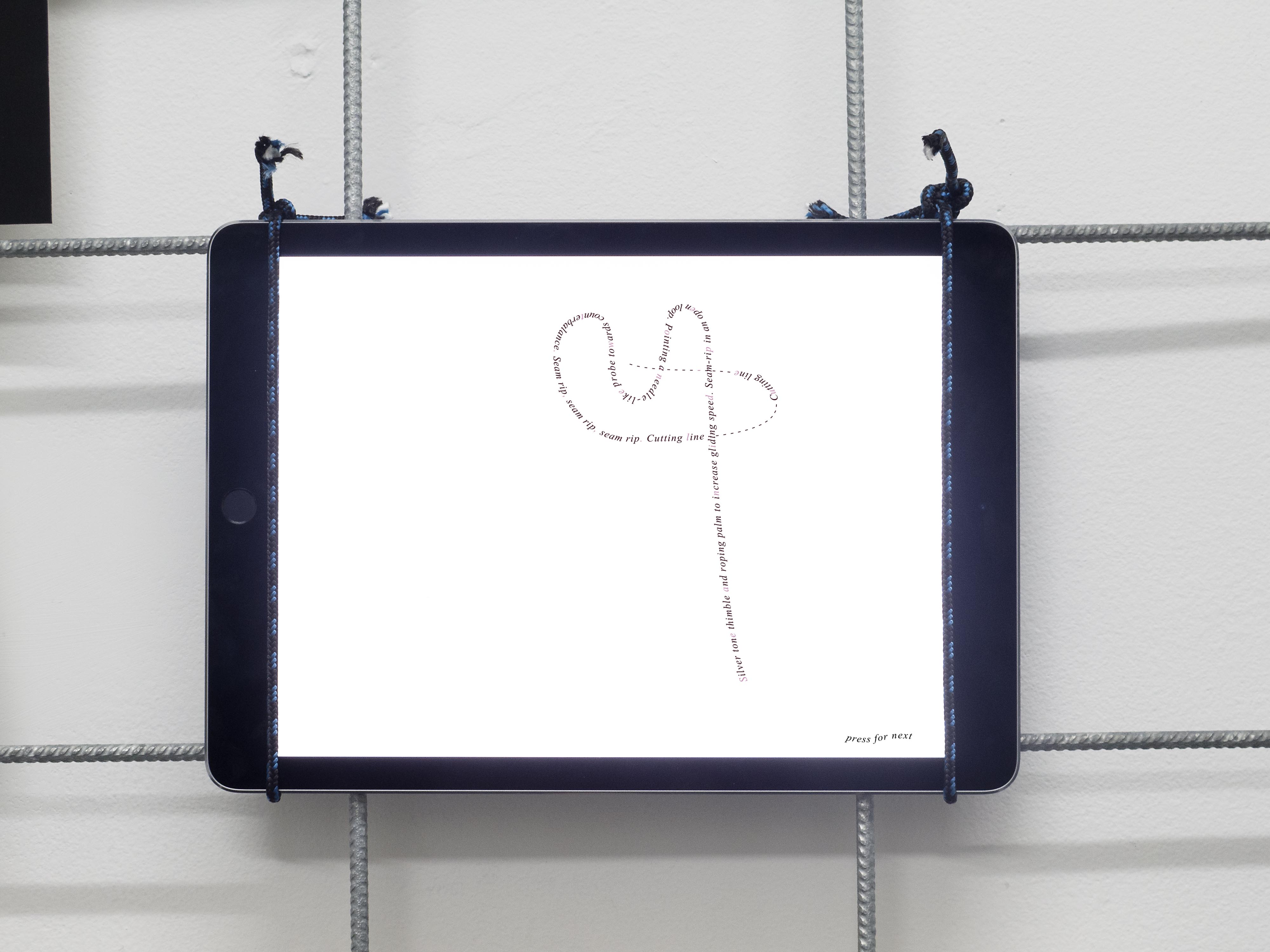 More text ropes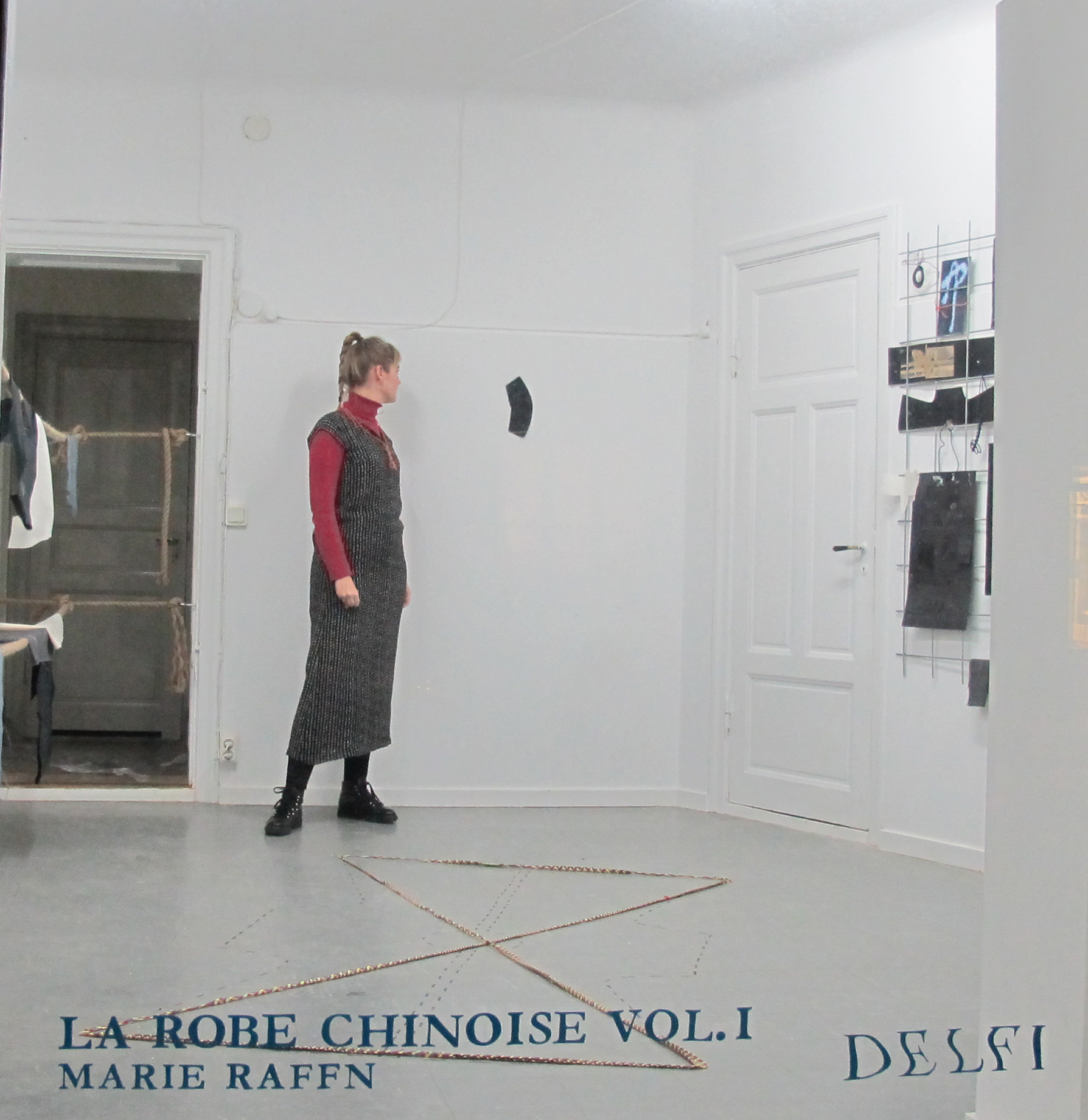 "På fyra grova rep hänger delar av tillskurna plagg. Mönstret till en fotsid dräkt är tecknat på golvet. I rummet ekar minimalistiskt rytmiserade ord. Idén till installationen fick Marie Raffn, då hon upptäckte, att de kinesiska tecknen på hennes sidenklänning var en dikt, publicerad 1772 i en av Kinas största boksamlingar på initiativ av kejsaren Quianlong, som brukar avbildas i en dräkt prydd med drakar. Hon började med att rekonstruera drakdräkten. Men det handlade inte bara om att återskapa något. Snarare att ringa in ett ämne för att sedan lösa upp det i detaljer, som leder vidare i oväntade associationer i stegrande förtätning. Det är som en essä, ungefär som hos Hélène Cixous, som ju arbetar poetiskt, associativt, för att nå fram till något som hon egentligen inte känner till då hon tar sig an ämnet. Från ljudslingan hör jag hur ordet "robe", klänning/dräkt, uttalas som "rope", rep. Och installationens alla tecknade trollsländor har förstås med det engelska namnet att göra, dragon fly. Fast på danska blir det ju ännu bättre –  guldsmed. Med sitt snabba filigranarbete i flykten tecknar de knutar och loopar som om de ville sy samman de tillskurna tygerna. Och det ser till och med ut som om de hade typograferat Raffns suggestiva text på en iPad, där både rader och formuleringar gör fantastiska figurer, som slutar med uppmaningen att ge tankarna fritt spelrum, "take flight". Med den här poetiska, semiotiska skräddarkonsten är det lätt.
Delfi är ett nytt initiativ för säsongen av elever från KHM, ett nödvändigt generationsgalleri. Marie Raffn utexaminerades 2016, och hon är något alldeles extra."
Recension (in Swedish)
by Thomas Breitenstein Millroth
Hovering in a single spot like a helicopter hammerhead but in a weightless liquid-metal ballet by a devil's darning needle which fastens slippery flaps
​__________________
Cutting line – – – – – – – – – – – –
Left sleeve, right sleeve
as resin seeps out from the bark of the ginkgo trees – – – dripping of leaves
|
|
|
|
|
|​
trapping tiny particles on its way while sticking to the pantala flavescens wings of an Emperor
in an air tight conservation
sizzling
Chalk-trace cloverleaves
a parchment-light membrane stretched between them
bowline – back tack
slash and spread pleat​​​​​
warm up spinal and hip flexibility​​​​
TAKE FLIGHT
La Robe Chinoise (The Chinese Dress) is a floor-length dress on which parts of the poem Hidden Fragrance and Scattered Reflections appears. The poem was published in China's largest book collection Complete Library of Four Treasures Vol. I (Siku Quanshu), initiated by the dragon robe dressed Emperor Qianlong in 1772.
In a fictive semiotic tailoring, La Robe Chinoise serves as a plot device for the preparation of a new robe.
La Robe Chinoise Vol. I is the first in an on-going story. A story that originates from an anecdote where a multilingual group of people talks past each other as they have different understandings of [rəʊb].
–
Remains of a seam allowance flight
Text-ropes based on manual of knots, Chinese knotting and selected signs from the poem Hidden Fragrance and scattered Reflections on The Chinese Dress (poem translated by Kai Lee Liu). Programmed by Asbjørn Grønbæk, shown on tablet attached to mood board gitter with sketches.
Robe. Robe? Rope.
Hörspiel, 3 sections in 9 min. loop.
Round turn open loop dragon (fly/robe) sloper
Interpretation of the artist's unfinished drawings from the poem Hidden Fragrance and Scattered Refletions based on the parts of a dragon robe sewing pattern. Rope, metal and laser cut textile. Black tape on floor.
Chinese jump rope performance at the opening
Photo documentation by Petter Dahlström Person
Supported by



Fondet for dansk-svensk samarbejde